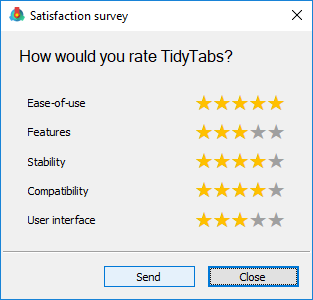 This new release (TidyTabs 1.3.0) is a major update which introduces the following changes:
We have added a very short User Satisfaction Survey that shows up a few weeks after the installation. This survey is optional and totally anonymous and will help us to know on which aspects of TidyTabs we should concentrate our efforts.
Added a shortcut to the settings dialog in the Windows Start menu.
Added a link to the online documentation in the tray menu.
Fixed several compatibility issues.