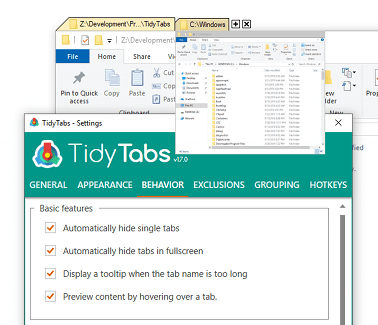 This new release (TidyTabs 1.7.0) is a major update which introduces the following changes:
Preview content by hovering over a tab.
For maximized windows, we added a small delay before the appearing of the tabs to prevent accidental clicking on a tab when you want to click on the titlebar.
Fixed: When auto-grouping is enabled, the 'New tab' function sometimes adds the new tab to the wrong group.
Fixed: Drag & Drop preview briefly appearing at the top-right of the screen when you detach a tab.
Fixed: Incorrect ratio of the Drag & Drop preview.