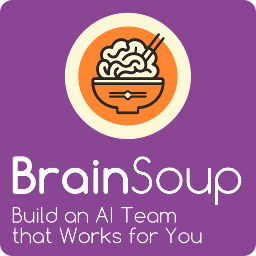 BrainSoup is your personal, task-oriented AI platform that will transform your way of working.
Custom Agents: Craft specific agents with their own knowledge, abilities, and skills to handle diverse and complex tasks.
Advanced AI: Backed by the best large language models like ChatGPT, augmented by the Semantic Kernel framework.
Your Data: Expand AI knowledge with your own documents and conversations.
Privacy: Local database and anonymized requests for optimal security.
Simple Interfacing: Integrates with your system using simple text files and scripts in any language for high flexibility.
Agent Collaboration: Agents work together in goal-oriented chat rooms for increased efficiency.
Intuitive Interface: Messaging-style native desktop app with a powerful search function.
Doc-E Assistance: In-built agent, Doc-E, is here to help you navigate through BrainSoup and set up your automations.
Constant Evolution: New features and compatibilities coming, such as more LLMs, event sources, and context sources, and much more.